The Stargate II Survey of the ESKAY Area:
The positive Eskay Mining result returns which we modelled after the Eskay Creek deposit setting, were the primary reason why we associatively interpreted the Garibaldi and Metallis environments as being so important.  3 very prominent Stargate II anomalies (2 to 3 times larger than the Eskay Creek system) are located along the west Eskay Rift contact which lays within 500 meters of both the GGI and MTS eastern property borders. On the illustration, Eskay targets 1 through 3 are referenced by the thick red line arc which correlates with the Eskay Rift curve. In essence, we interpret that a repeat of the Eskay Rift occurs within both Garibaldi and Metallis holdings.
The region where the Eskay Stargate II anomalies reside, correlates directly with the South Unik Harrymel Fault Zone, which also just happens to overlap one of the primary Kyba Red Lines of significance. This area is clearly a hot-spot for our workings and numerous deposit models could reside almost side by side between these players. St. Andrew Goldfields (now part of Kirkland Lake Gold) held the Eskay ground at the time of our work.
Please note that the main areas of interest are now held by GGI, MTS and ESK. The Stargate II data has been made available to these and other area companies. 
 
 Golden Triangle Area Overview Property Map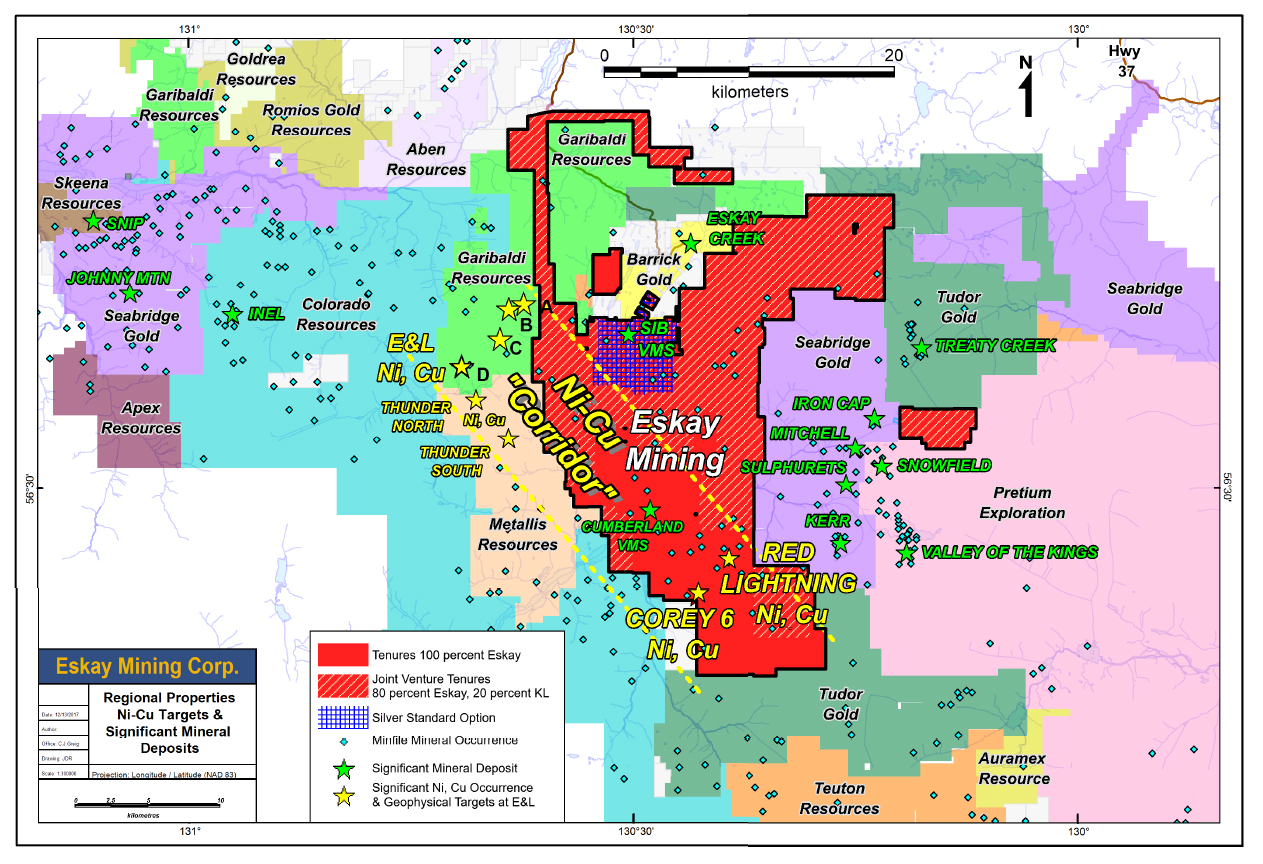 Eskay Area Regional Property Map - with overlay of Stargate II Interpreted Structural Conduits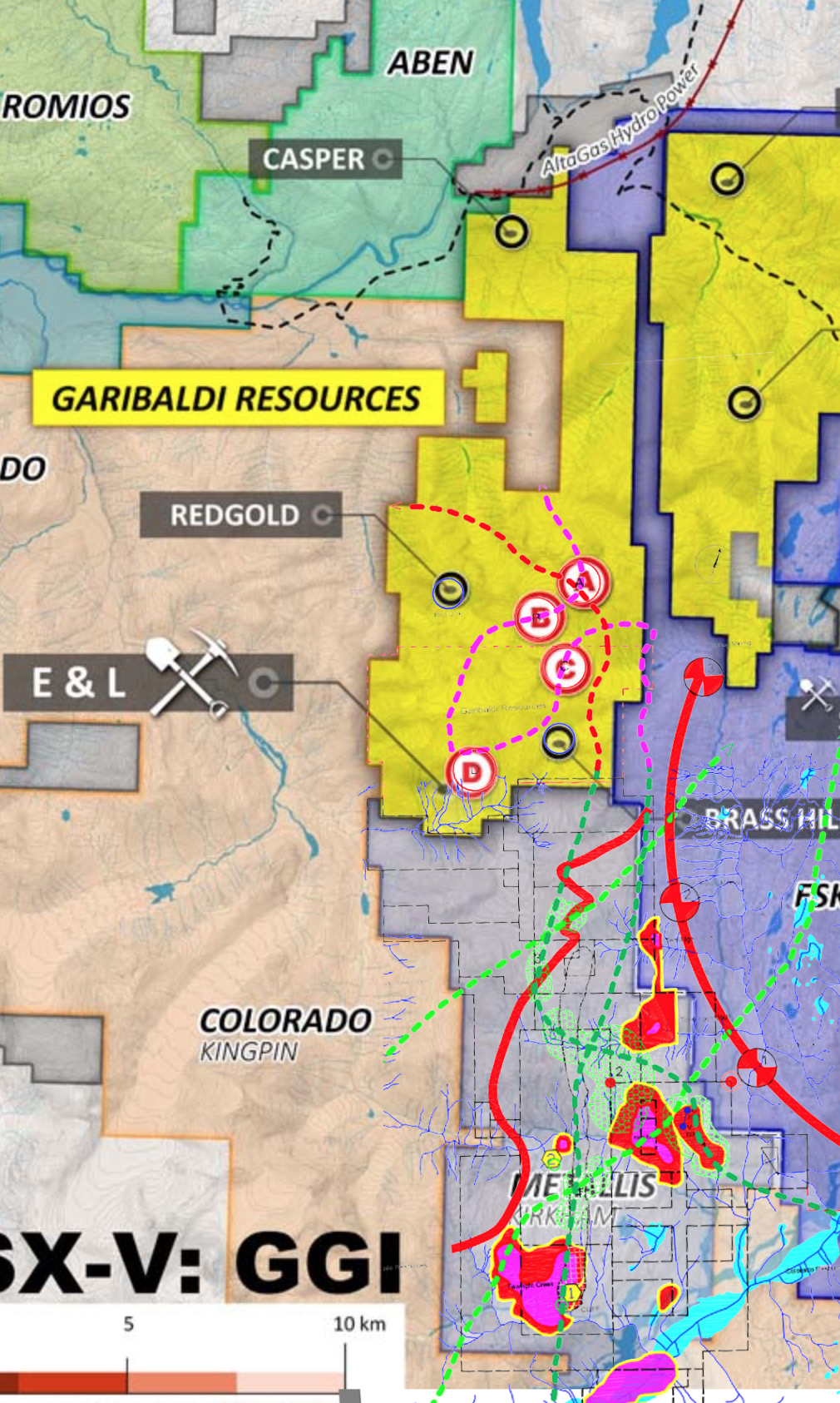 Garibaldi (GGI), Metallis (MTS), Eskay Mining (ESK) Google Earth View
Pushpin view of all Stargate II anomalies within Eskay Mining and Garibaldi and Metallis holdings. This snapshot gives a clear correlation of structural control trends in relation to the Harrymel Valley (Kyba Red Line overlap) and continuity controls between Metallis and Garibaldi  associations. Metallis has the benefit of having overlapping Eskay Rift structural trends being contained within it project holdings on two levels, whereas Garibaldi has 1. All Stargate II feed conduit axis trends directly correlate with all Kyba Red Line surface evidences along strike between all project holders in this region.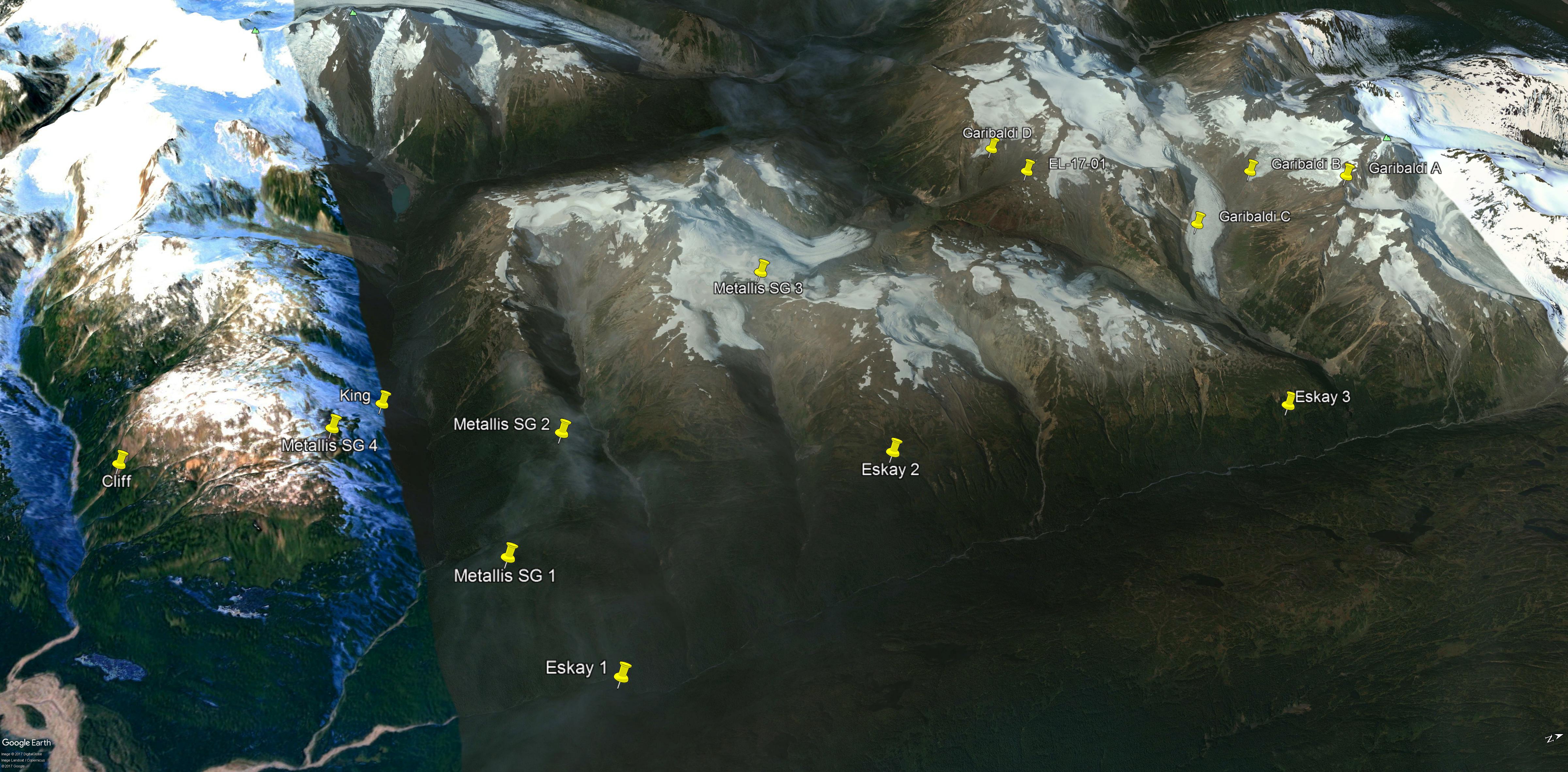 Garibaldi Resources Corp.
Newest Stargate II massive sulphide lens  interpretation for E&L
The feeder conduit trace 'A' connects along strike to the south into MTS holdings through the Thunder North and South SGII anomaly. 
The red arc on the east side illustrates the target areas on the adjoining Eskay Mining property.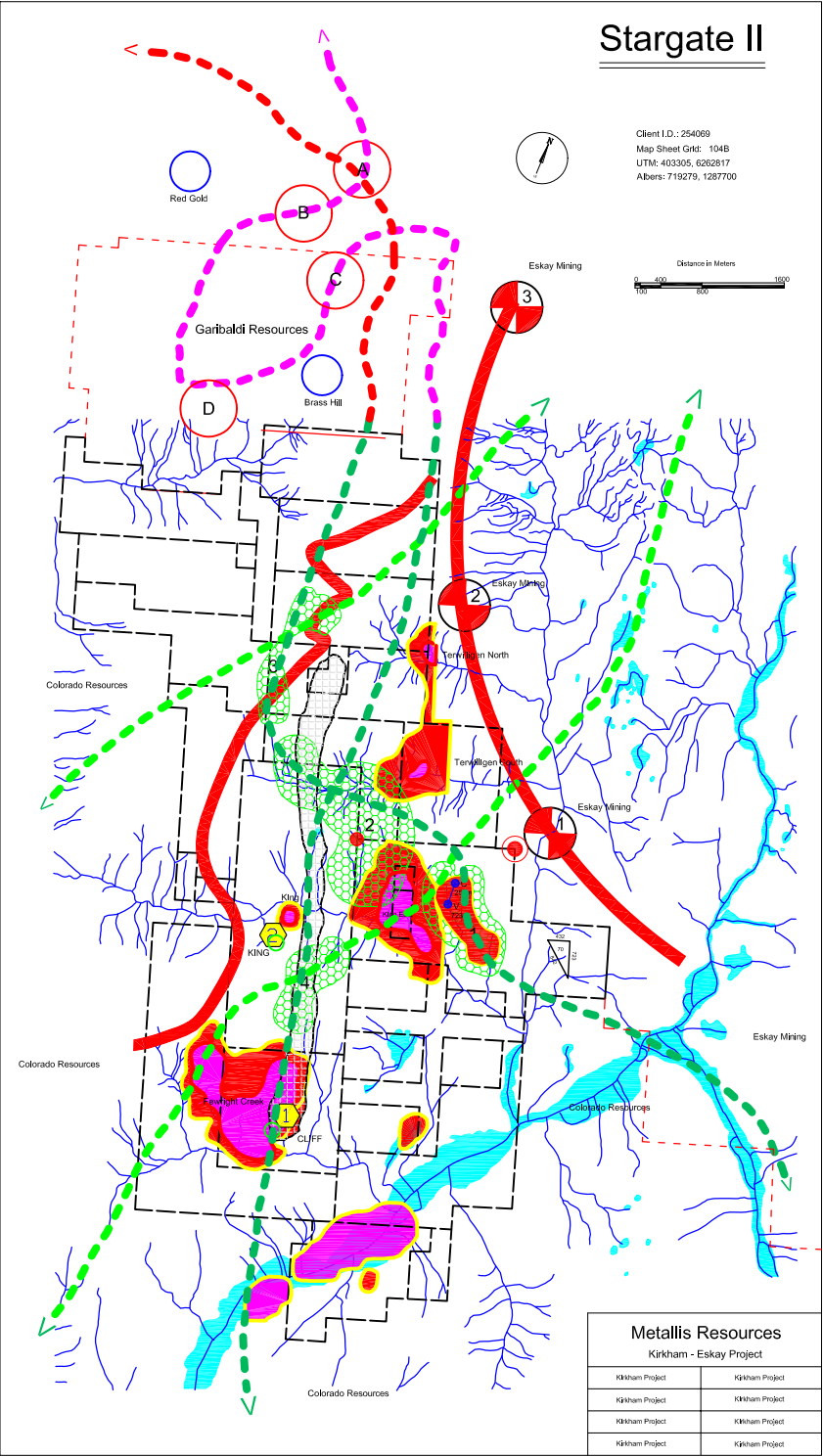 Garibaldi Resources Corp.
Stargate Ii anomaly outline with overlaid plan view of  earlier historical Sumitomo workings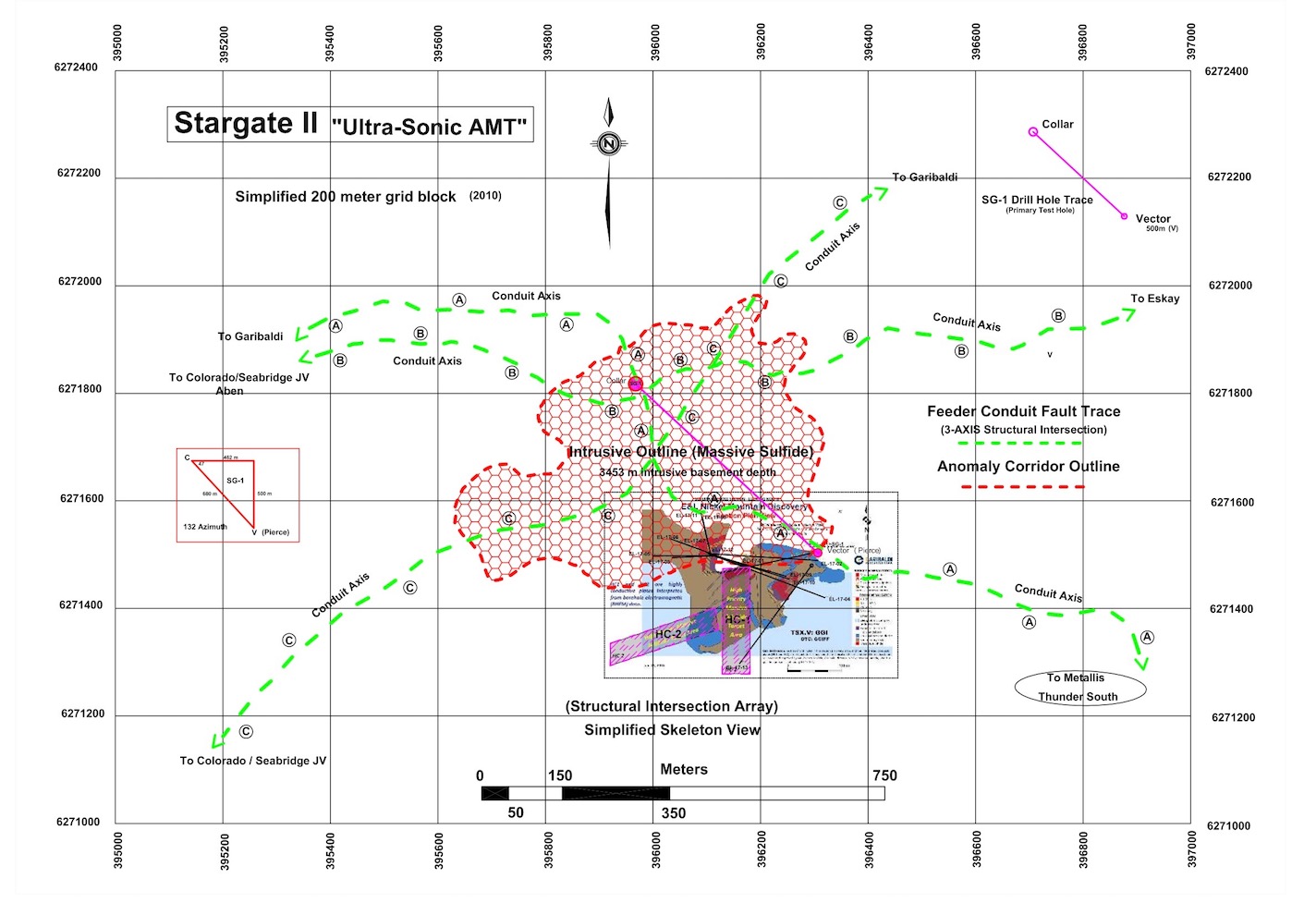 Stargate II anomaly outline -
Note the Garibaldi modelled anomaly threads HC1 and HC2 outside the SGII interpreted anomaly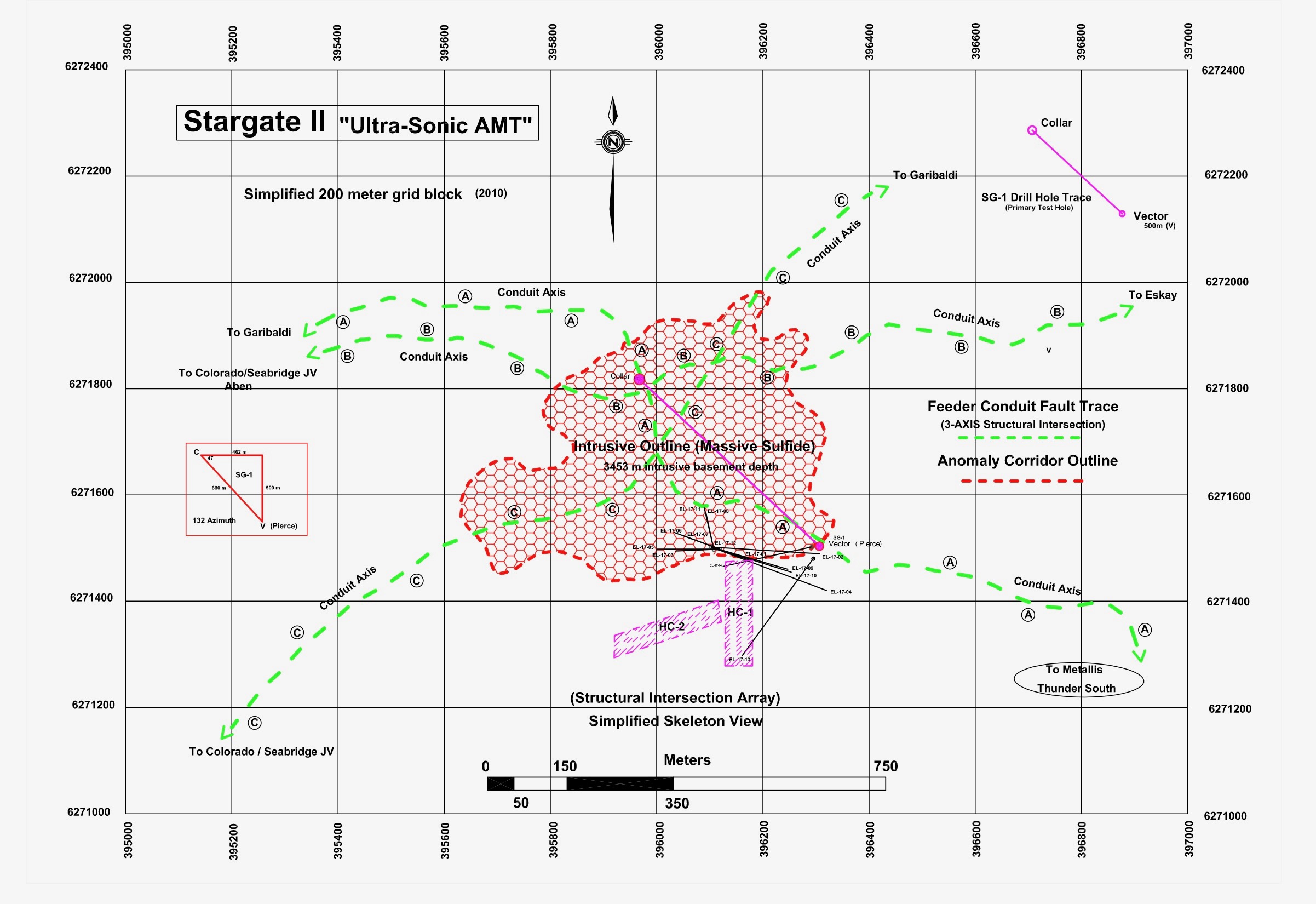 Close-up View of Garibaldi  Drill Holes Overlaying the Stargate II Anomaly Outline 
 Close up View of Garibaldi Anomaly D intrusive
Broken lines are the SGII interpreted structural traces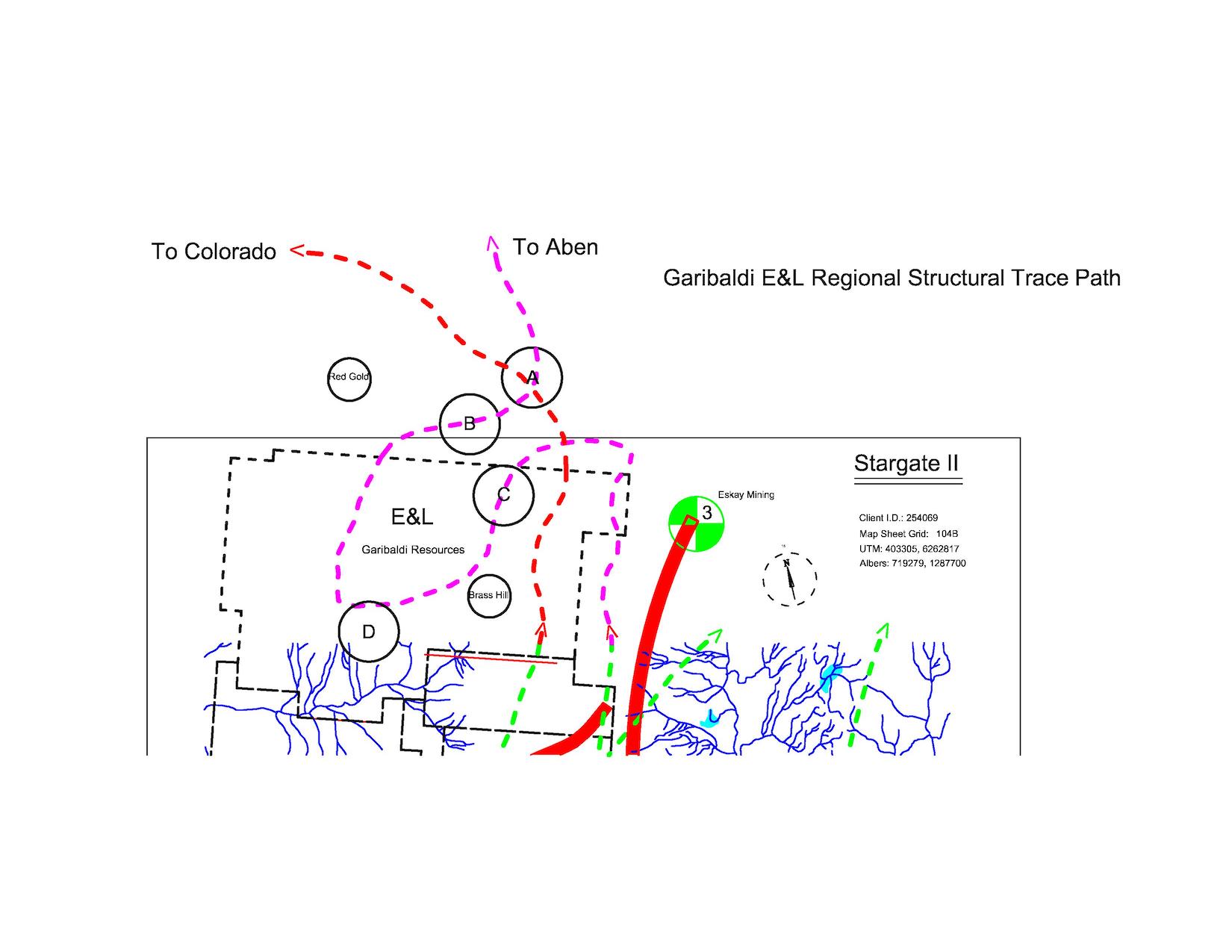 Garibaldi  Anomaly D Intrusive 
 Stargate II Modelled  Section View to 3500m